AFRICAN AMERICAN 
ACTIVIST and 
EDUCATOR DARREN T. WELLS
CREATES "WEAR THE MASK AND SPEAK OUT" ART-MOBILES TO ADDRESS RACISM, SOCIAL INJUSTICE, AND THE POLITICS OF SAFETY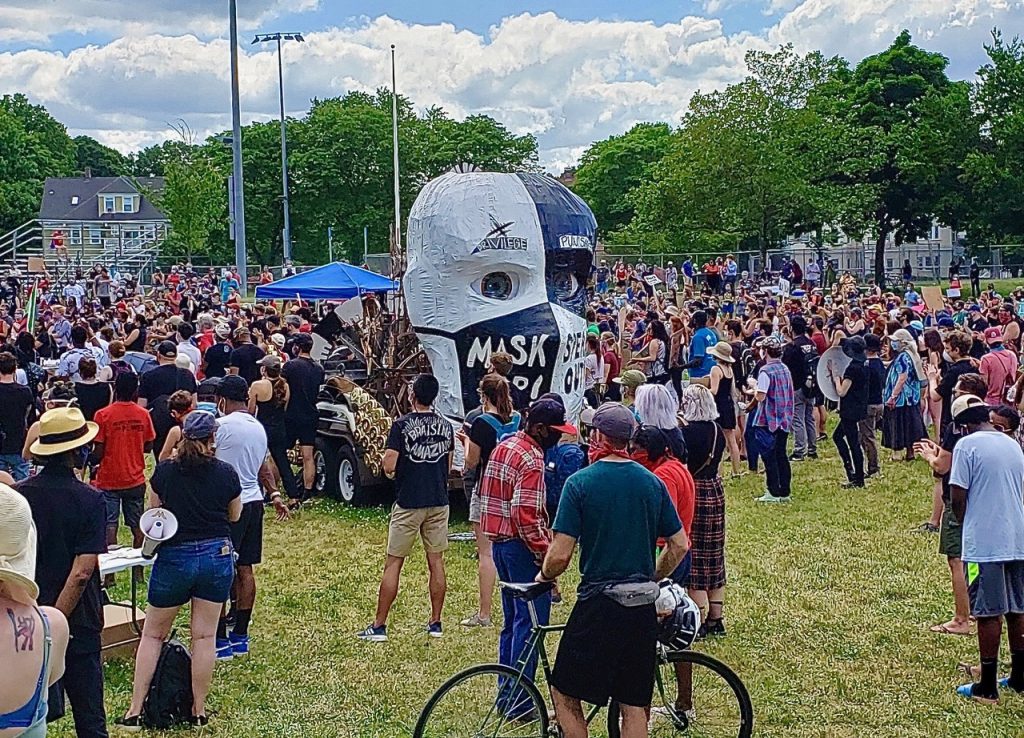 The Revolving Museum is collaborated with award-winning educator and community leader Darren Wells to create an anti-racism traveling public artwork aligned with the national protests to condemn the killing of George Floyd.
The "Wear The Mask And Speak Out" project renovates the Revolving Museum's recent "Corona/Crown Project," which has been used to bring awareness to the COVID19 pandemic and its disproportionate impact on Black and Latino people. Wells and a team including artist Ariana Peralta, Revolving Museum Board Members Coraly Rivera, Becky Cruz-Crosson, and Revolving Museum Executive Director Jerry Beck have re-designed the Corona/Crown art mobile to support the Black Lives Matter movement.
The traveling interactive and public participatory project comprises two vehicles including a transformed 1952 Ford pickup truck and art trailer covered in protest signs created by dozens of artists, young people, and community participants. The other 16' long trailer includes the "Big Head" sculpture and over 20 works of steel sculpture and kinetic art all of which is part of the narrative component of the project.
"Art and storytelling create powerful lasting messages and I sincerely hope this public artwork will be transformational for people of all races and backgrounds," Wells said: Black people experience trauma every day. First, we asked for reparation and to be treated equally and fairly. Then, the second ask, raising fist, included the raised fist, the kneeling knee, and many silent protests. However the third is where we are at now. Three strikes and you're out. I don't condone rioting or looting but what must the people do when Enough is Enough? The sad thing is that this is all learned behavior and conditioning. I'm tired of children of color traumatized and fearful.
"The Revolving Museum has historically been able to bring together artists, youth and the community around the arts. My twin brother Jose and I have been involved with the museum for almost 30 years, first as a youth and now as board members. It has always been a vehicle to bring people together across all racial and economic lines," said Becky Cruz-Crosson.
"As a college student majoring in Art and Neurosciences this has truly become a moment of enlightenment and this project is serving as an outlet for me and my peers to express our feelings as young adults,¨ said Ariana Peralta.
"Artists have always responded to make the world a better place. The arts have a long history responding to issues that bring unity, love, healing and change. It is art and activism that is taking centerstage offering powerful public artwork as a catalyst for dialogue with the public about racism, social justice, racial equity, civic engagement and economic rights," said Jerry Beck.
---
Darren T. Wells is a Boston Science teacher at the Washington Irving Middle School and serves on the National Academies' Teacher Advisory Council, for elementary, middle and high school teachers from around the country. Wells has twice received the prestigious Ambassadors in Education Award from the MetLife Foundation (he also was the first teacher in Massachusetts to receive this award in 2005). In 2015 and 2014 he was an Einstein Fellow finalist. In 2004, Wells was only African American male in the country to receive the US Presidential Award in Science and Mathematics. He is a member of numerous educational and social justice organizations across the country.
---
Here's a link to the CBS Boston coverage of Dorchester Juneteenth Celebration.
Dorchester juneteenth celebration awareness